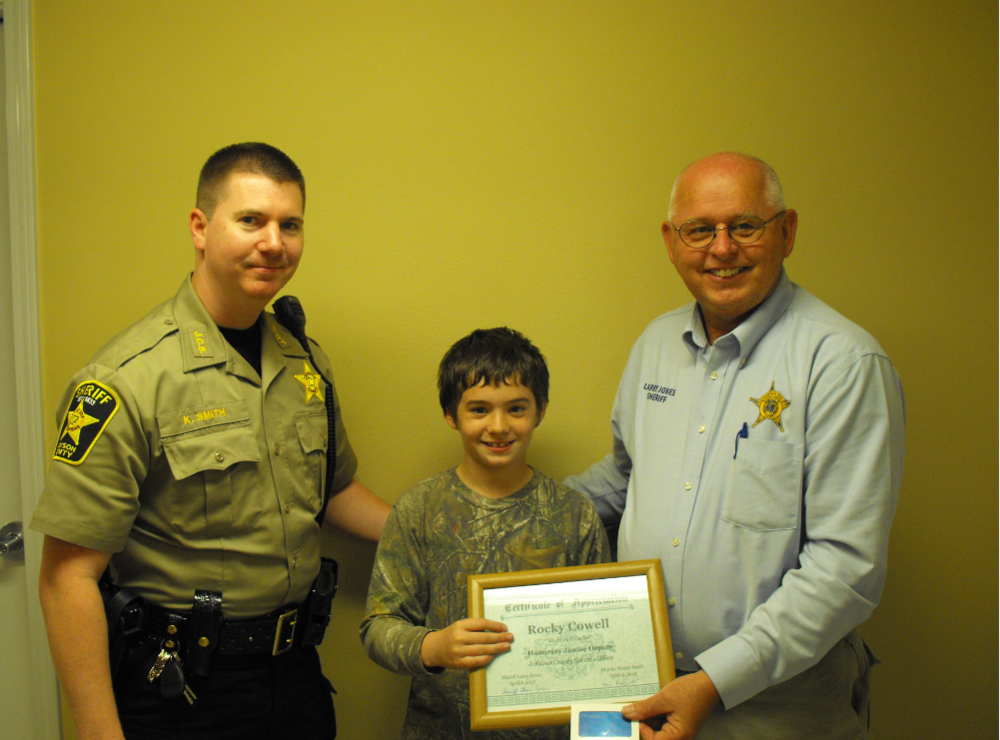 Rocky Cowell, age eleven, is a fourth grader at West Side Elementary School. He is also being called a hero by the Johnson County Sheriff's Department. Rocky, while walking to school last Thursday, saw two small toddlers in the middle of Baskin Street in Hartman. Rocky asked the toddlers where they lived and they could not tell him; not seeing any adults around, Rocky walked the toddlers to his school and took them to the office
After Rocky brought them to the school, they were fed breakfast, and the Johnson County Sheriff's Department and the children's mother was notified.
After speaking to Rocky, Deputy Kenny Smith shared the story with Sheriff Larry Jones. Sheriff Jones and Deputy Smith wanted to recognize Rocky for making a wise decision that could have saved the lives of the two toddlers. Sheriff Jones stated that "if it were not for the quick thinking and wise decision by Rocky to take the toddlers to school with him, there is no telling what could have happened to those little girls. Anything from being kidnapped, ran over, or getting lost in the woods or creek area. Rocky is a true community hero and we are proud to recognize him as such."
Sheriff Jones and Deputy Smith awarded Rocky with a Certificate of Appreciation and recognized him as a Jr. Sheriff's Deputy. Rocky also received a $25.00 gift card to Wal Mart to reward him for his great work.
Sheriff Larry Jones