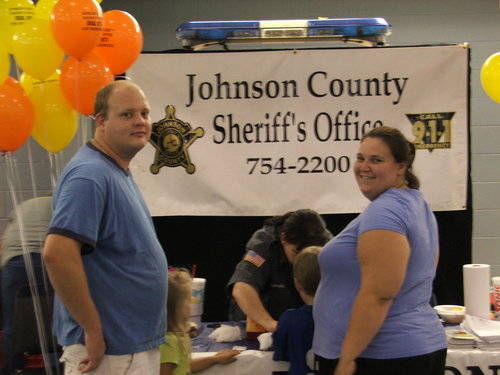 National Night Out 2008 -
Thank you for stopping
by our booth!
At the Johnson County Sheriff's Office we are leaders in our community. We continuously lend our name and time to many worthwhile causes, such as National Night Out, Special Olympics, Johnson County Peach Festival and other charitable events. We are glad to help organize and plan activities that serve the community. We have organized softball games and poker runs to raise money for charitable causes and persons with life threatening health issues. Remember, we live here with you and are here to serve you, any way we can.
Sheriff Dorney with the
winners of the Peach
Festival Pig Chase 2008

Winners of Peach Festival
Pig Chase 2008 -
GREAT JOB!

Special Olympics Law
Enforcement Torch
Run 2008

Thank you Representatives
Wells and Overbey for
the donated trailer!

Sheriff Dorney &
Clarksville Chief Greg
Donaldson jamming at
National Night Out 2008

Totem Pole Daycare
in Lamar loves when
Sheriff Dorney and
the Deputies visits!

Deputy Jeff Wood assisted
with the Atkins
Tornado Security

PC and Sheriff Dorney
visits the Johnson
County Schools

Deputy Jeff Wood -
Deputy of the Year 2008

Lt. Eddie Richards teaches
the Boy Scouts about
fingerprinting

Lt. Richards demonstrates
how to lift fingerprints

Sheriff Dorney donating
blood at the Guns and
Hoses Blood Drive 2009

Special Olympics Law
Enforcement Torch
Run 2009

Peach Festival Pig
Chase 2009

National Night Out 2009



Donation Collection for
Mena Tornado Victims 2009

Law Enforcement
Appreciation 2009

Marijuana Eradication
Day 2009

Deputy Shook and
Detective Morrow sworn
in as U.S. Deputy
Marshalls 2009

Detective Chad Morrow
Deputy of the Year 2009

Shop with a Cop 2009

Sheriff Dorney speaking at
Westside 2010

Puppy Mill Raid 2009











Sheriff Dorney ringing
the Salvation Army bell