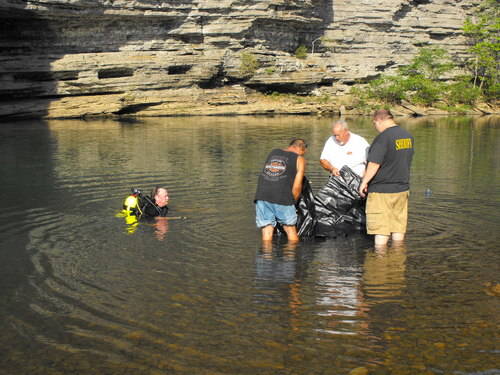 A 29 year-old Clarksville resident died at approximately 11:30 p.m. on Thursday, July 21 after jumping from a cliff at the Narrows, a swimming area on Big Piney Creek north of Hagarville.
Daniel Lee Stewart was at the site with friends when he jumped from a cliff into the water, which had a depth of approximately 12 feet.
Stewart surfaced briefly, did not appear to be in distress then disappeared under the water. According to witnesses, a search was made for Stewart for approximately 10 minutes before one of them drove away from the scene to obtain cell phone service to call the Sheriff's Office.
The Johnson County Dive Team arrived on the scene at approximately 8:00 a.m. and Stewart's body was recovered at approximately 8:31 a.m. in approximately 9 feet of water near the bluff.
Stewart's body will be sent to the Arkansas State Crime Laboratory for an autopsy. No foul play is suspected.