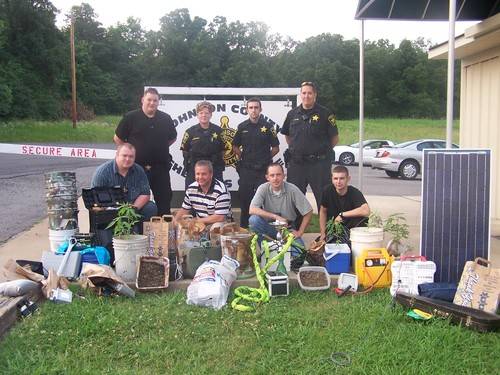 Detectives and Deputies with the Sheriff's Office served separate search warrants on a residence located on County Road 4418 in the Lone Pine community on Monday, June 6. The investigation began when Detective Jeff Wood and Deputy Todd Russell went to the residence to serve a felony arrest warrant on a subject believed to be living at the residence. When they arrived an attempt was made to cover the exits of the residence to prevent the subject from fleeing. Detective Wood noticed the meter had been pulled from the electrical box and saw that pieces of metal had been inserted into the box, creating a circuit. It was determined that the occupants of the residence were stealing electricity. The electric company was notified and Deputy Russell then reported finding marijuana plants growing around the permieter of the back door. There were also spent shell casings in the yard from different caliber weapons. The renter of the residence was convicted of commercial burglary in 2005.
Based upon this information a search warrant was written for the residence. When the warrant was signed and entry was made into the residence, deputies discovered many items believed to be stolen from various thefts and burglaries in Johnson County. A second search warrant covering the suspected stolen items was written and served on the residence.
55 items were taken from the residence, including 16 marijuana plants ranging from starter size to approximately 2 feet. Other suspected drugs, drug paraphernalia and items of evidence were seized.
The occupants of the residence were not home at the time of the search and warrants will be sought for their arrest.